Israel under renewed fire: Rockets fall north of Zikhron Ya'akov after Iron Dome intercepts several rockets launched at central Israel; over 225 rockets fired at Israel since Operation Protective Edge began.
Dimona's mayor said, "We already opened shelters yesterday although we did not receive explicit instructions to do so."
CLICK HERE FOR LIVE UPDATES
Sirens sounded in Holon, Bat Yam, Rishon LeZion, as Iron Dome intercepts new round of rocket fire from Gaza over the skies of the Tel Aviv metropolitan area.
At least two rockets fell in open areas north of Zikhron Ya'akov, just 37 km south of Haifa, in what was the longest reaching rocket attack since Operation Protective Edge began late Monday.
Earlier in the morning, five rockets were fired at the Tel Aviv metropolitan area in the morning, as fighting in the south continued to escalate. Throughout the day rockets rained on southern Israel.
According to the IDF, more than 225 rockets were fired at Israel since Operation Protective Edge began late Monday night. Some 40 of those rockets were intercepted by Israel's advanced Iron Dome missile interception system.
Islamic Jihad fire rocket at Tel Aviv
Hamas military wing took responsibility for the rocket fire at Hof HaCarmel Regional Council, and said the rockets were R-160 rockets. The rockets fired at the Zikhron Ya'akov region were the farthest north Gaza rockets had reached since the operation began. Both rockets fell in open areas.
Meanwhile, rockets were fired at the Sderot and Sha'ar Hanegev Regional Council, at least two of which were intercepted by the Iron Dome system.
Early Wednesday morning, the silence was shattered when air sirens shrieked throughout central Israel, alerting citizens of incoming missile fire.
The rocket salvoes sent people racing for bomb shelters, but businesses remained open in Israel, traffic flowed and the Tel Aviv Stock Exchange seemed to be unfazed, with shares opening higher.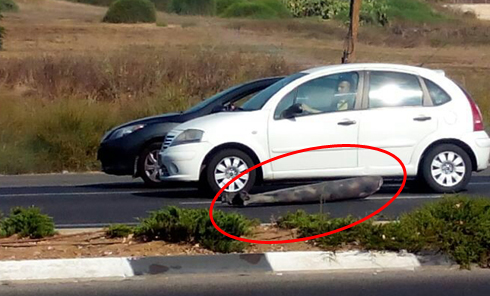 Part of rocket fired at Tel Aviv falls near Nes Ziona after being intercepted by Iron Dome (Photo: Dor Asayag)
The sirens, heard in the greater Tel Aviv area, were followed by a number of muffled blasts indicating that the Iron Dome missile defense system managed to intercept the rockets. The military confirmed five rockets were intercepted.
Related stories:
According to the military, missile were intercepted above Tel Aviv and Ben Gurion International Airport. Overnight, airport officials decided to return to full routine after security officials put Israel's sole international airfield on alert amid ongoing rocket fire from Gaza.
Israel's southern communities continued to suffer a battering, with rockets falling on Netivot, Sha'ar Hanegev, Sdot Negev and the southern capital of Beersheba.
An 80-year-old Palestinian woman was killed in an Israeli response attack in central Gaza, local officials said.
Egypt brokered a truce in the conflict two years ago, but its military-backed government is hostile toward Islamist Hamas and there were no immediate signs of intervention to halt the current fighting between the group and Israel's powerful armed forces.
At least 27 people were killed across Gaza, Palestinian officials said on Wednesday. Israelis ran for cover late on Tuesday as air-raid sirens sounded in the business capital Tel Aviv and the holy city of Jerusalem, both of which were hit in the Gaza war of November 2012.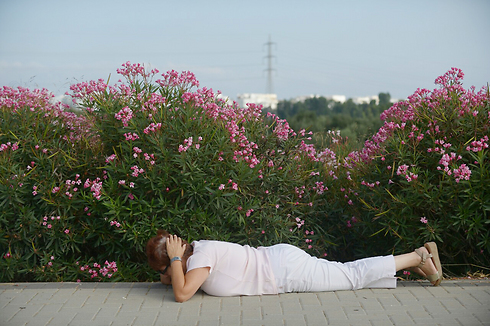 Israelis duck for cover amid rocket fire (Photo: Avi Rokah)
Hamas said it also fired a rocket at the major northern city of Haifa, 140 km (88 miles) away, and though this was not confirmed, Israel said a rocket had landed in Hadera, 100 km (60 miles) from Gaza, further than had previously been reached.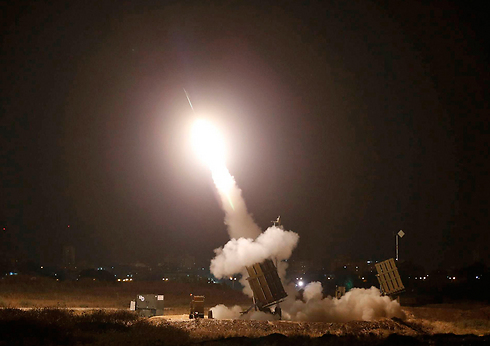 Iron Dome (Photo: Reuters)
A total of 117 rockets were fired from the Gaza Strip at Israel on Tuesday, the first day of Operation Protective Edge. The Iron Dome missile defense system intercepted a total of 29 rockets.
Rockets fired from Gaza kept pushing northward on Tuesday night when the rocket alert siren blared in areas as far as the Sharon plains and Caesarea. It was followed by a volley of about 30 rockets fired at the same time at different areas of the country.
Before that barrage, sirens were sounded across the country, including in Sderot, Ashdod, Yavne, Be'er Sheva, Tel Aviv, Ramat Gan, Givatayim, Rishon LeZion,Kadima-Tzoran, Ness Ziona, Southern Sharon Regional Council, Ra'anana and Herzliya.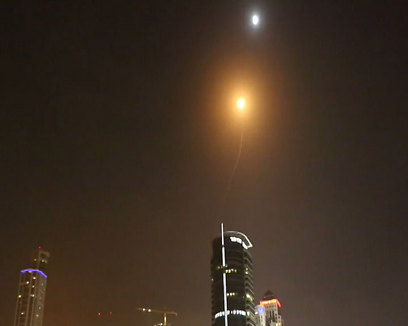 Interception above Tel Aviv (Photo: Yaron Brenner)
Hamas claimed it fired four M75 rockets towards Jerusalem. The rocket alert siren was sounded in the capital, as well as surrounding cities Beit Shemesh and Beitar Illit.
A total of three rockets fell in the Jerusalem area. In the Mateh Yehuda Regional Council, a rocket hit in between houses. Another rocket fell in an open area in the West Bank settlement of Giv'at Ze'ev, 5 kilometers northwest of Jerusalem.
The Jerusalem municipality has opened all of its public bomb shelters.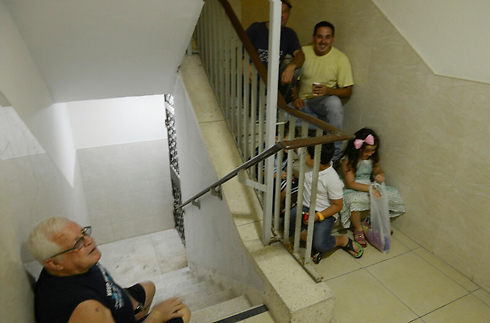 Familes in Ashdod hide from rockets (Photo: Avi Rokah)
Hamas also claimed to have fired an R-160 rocket at Haifa. There were no reports of rockets hitting the northern city.
The Iron Dome missile defense system intercepted three rockets fired over the Tel Aviv metropolitan area. Hamas claimed to have fired four M75 rockets at Tel Aviv in one attack and two more in another.
Some of the long-range rockets fired at the Tel Aviv area on Tuesday evening fell in an inhabited area. Light damage was caused to a home when a rocket hit right outside it.
The Home Front Command ordered bomb shelters opened in the Sharon plains, Beit Shemesh, Jerusalem, and in communities in the Shfela area.
Matan Tzuri, Ynet's reporters and the Associated Press contributed to this report
| | |
| --- | --- |
| First Published: | 07.09.14, 08:55 |